Tel: 0086-136-17625743





Multi Function Mini Tiller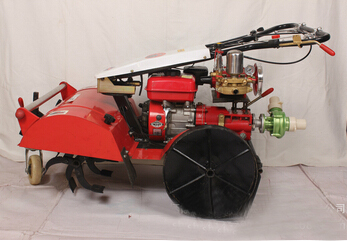 Multi Function Mini Tiller
>>
>>
Keywords:pasta que hace la máquina,آلة صنع عجينة,paste que faz a máquina,molienda de trigo máquina de harina,máquina de moer farinha,China


Product Name:
Multi Function Mini Tiller

Comparation
Driving Methods:
two-stage variable speed
1.Direction can rotate 360 degrees, also can be adjusted freely up and down to controlling operating height.
2.Super powerful, even if the load at three adults,it can still work as usual, two levels of variable speed can be

3.Machine is equipped with the guide wheel,which can work by themselves automatically affter adjust direction
and help is particularly important in the process of the ridge in the greenhouse.
4.Guide wheel can be installed on a joystick, Whent to work under low trees or other lower environment, we only
need to take guide bar and can let the machine to work, as we take the dog for a walk.
5.For Weed control function, It discard the traditional weeding methods into weeding and small digging,
won the national patent certification, it can be easily cut grass grubbing, incidentally scarification,
avoid the traditional weeding round rolling without the disadvantages of grubbing in the grass.
6.Discard the traditional ridging equipment of iron plate, instead of round ridge, making it more flexible operation,
the height and width of the ridge can be adjusted freely.
7.This machine can assemble the water pump and medicine pump, strengthen the function of irrigation
and spraying, truly realized the home has only a machine, but all done.
Main Features:
Max Power: 4KW
Motor Type: single cylinder, four stroke
Rotary Tillage Depth:
0mm to 200mm
Rotary Tillage Width:
700mm
Weeding Maximum Height : 0mm to 1000mm
Lever Height:
660mm to 1000mm
Draw Bar Length:
1200mm to 1500mm
Packing Size: 1370mm*740mm*660mm
Operating Vedio After 15S Advertisement